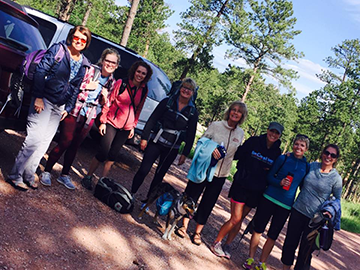 Since this is our last get together of our summer season, I wanted each of you to know how much I have been blessed by your friendship over the past few months. God has shown me many things this past summer. It started with how little control we have over our circumstances. Followed by how much God is in control. Being out of commission the first part of the summer was difficult. Yet, friendships were formed, lives were impacted, and our group flourished.
It has been amazing to watch each of you grow, and become accomplished climbers. We have women who could barely climb 5.6s, now crushing 5.9s and 10s. We also have new lead belayers, and women who know who to build anchors and repel. I see a few soon to be lead climbers in the mix as well.
For we are God's masterpiece. He has created us anew in Christ Jesus, so we can do the good things he planned for us long ago. – Ephesians 2:10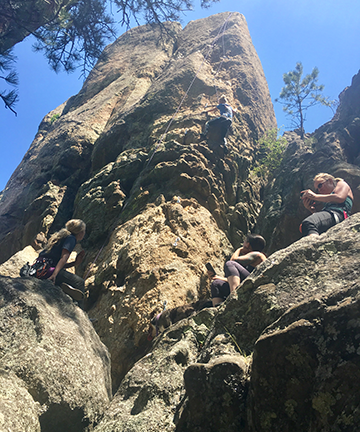 More than the climbing, I am touched by the love, friendship and support demonstrated by each of you. You all have become cherished friends and sisters. I think it is so cool to hear a group of you off in the distance, cheering and whooping as someone overcame a challenge and made it to the top. I love the support and care each of you have all demonstrated. Our little group consists of many different ages and backgrounds. Yet, the depth of community we have built has been an amazing thing to witness.
Kind words are like honey sweet to the soul and healthy for the body. – Proverbs 16:24 
So encourage each other to build each other up, just as you are already doing. – 1 Thessalonians 5:11
The support has been so much more than just with cheering one another on, and light conversations. Some have gone through difficult times, and needed the love and support of dear sisters in Christ. Many of you talked and prayed together, lifting one another up in times of need. For me, this group has personally been a blessing, during a season of illnesses, injuries, and recovery. Spending time with the amazing women in our group been a highlight of my summer. I am so blessed by knowing each and every one of you.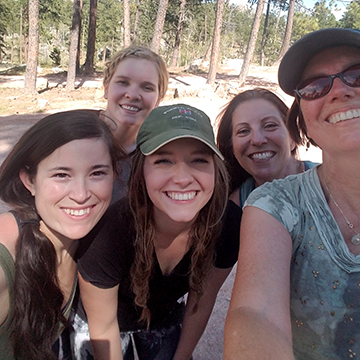 Perfume and incense bring joy to the heart, and the pleasantness of a friend springs from their heartfelt advice. – Proverbs 27:9
Bear one another's burdens, and thereby fulfill the law of Christ. – Galatians 6:2
We have had 35 women come to our group this year. Thankfully not all at the same time! I want to thank Sally and Haylee for all their help. Without them, I would have been totally in over my head. Some of you who joined late did not see what the first part of the season was like. I could not even carry my gear, or belay due to a back and neck procedure. Sally and Haylee stepped up and did all the heavy lifting. They have faithfully been here every week, helping to teach, setup routes, and clean up before heading home. Thanks to them, I have not had to cap the group size or limit who can attend.
As this season draws to a close, and we excitedly move into the Fall and Winter season, I want to thank you for your participation, your friendship, and for all the laughter. You are all amazing women, beautiful daughters of the King. I hope this summer gave you an opportunity to discover new passions, overcome challenges, and conquer your fears. I cannot wait to see how God is going to move in your lives over the next few months. I look forward to seeing you grow and become stronger climbers. I anticipate deepening friendships, and lots more laughter. For that, I am grateful.
She is clothed with strength and dignity; she can laugh at the days to come. – Proverbs 31:25