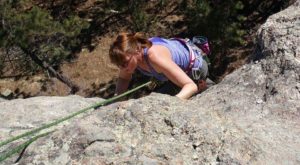 I was raised in a Christian home that was modest and safe. If anyone looked at a snapshot of my childhood memories they would see a happy child in a good place.
There were unwritten rules and expectations of me- a lot more don'ts on the list than dos. During those young years my conscience was formed so that I knew what was right and wrong. Doing "right" was expected and it came with very little acknowledgment or kudos and doing "wrong" was very bad and came with consequences. If my dreams conflicted with these two, I chose to make others more important than myself. I would choose to give up my wants and desires and be content. Don't get me wrong, my conscience has served me well. If you were to look at another snapshot of my life you would see a happy adult in a good place. Yes, I believe I have made fairly good choices in life and that I have avoided many troubles and heartaches that this world can bring. That has brought me happiness, but has that brought me joy? Content is a good quality, but was it contentment or was it really compliancy?
I believe my willingness to be content has confined me within the walls of complacency. Complacently is like prison walls that keeps one from facing fears, or making changes, or growing spiritually. We simply accept our lot in life for that is the easiest path.
As I look at the snapshot of my life I see complacency. I am neither happy nor sad, nether hot nor cold, neither bad nor good. I try not to make waves, and I try to keep the peace. These are all good things, but complacency does not bring joy.
Back again to my childhood. I grew up in the beautiful Black Hills of South Dakota. There I would see those wonderful aw-inspiring granite spires that reach up through the pine trees into the sky. As a child I would see these spires as something too big and too tall to ever stand on top of. That challenge would be too great, and make me too afraid, and I could fail. I would squash my adventure spirit.
I am now in my 50's and questioned if I would ever truly listen to my adventure spirit. I asked the Lord, would I be complacent and happy- but not joyful, my entire life?
Well, into my life walks in a new friend. She says- you are not so old that you cannot make changes in life. You do not have to listen to your head telling you, "you can't…", "you won't…", "you aren't…", "you will never…" ect, ect. She would say something like, Yes, you can stand on top of that mountain, and then you will see the world from a different perspective. She said, "Yes, you can!"
I accepted that challenge and a new adventure opened up for me. I faced my fear and proved it wr
ong at the top. Now I see the granite spires as a reminder to grow bold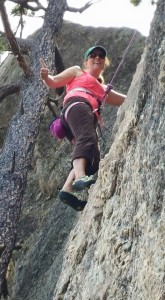 er, not just older. When I place my hand on that raw granite, I feel its strength, its beauty, and how it cries out to Glorify God. It has much more beauty now, due to all it has taught me.
What I am learning from this rock: 1: We are never too old to be strong in spirit and in body. 2: My strength comes from the Rock (Jesus Christ). 3: I can face my fears, and through Christ I can accomplish what He ask me to do; and yes, that does bring me joy.
I am made in God's image and that too is an aw-inspiring thought. Each time I start a new challenge, my climb, I put my hand on the rock and feel God's glory all around me. I sense there, that God does not want me to be complacent but to rise to the challenge of becoming the woman God has designed me to be, and there is great joy in the victory.