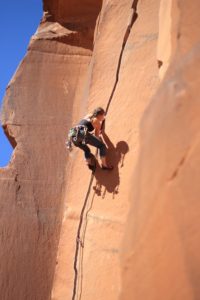 Hey.  I'm Kristin.  I love climbing rocks.  It's as simple as that.  I was first introduced to rock climbing when I was working as a counselor at a summer camp in college, many years ago.  I'm not quite sure when or how I became so passionate about rock climbing, and began to identify myself as a "climber", but I know I am thankful that I have found a pursuit that brings such great joy and adventure to my life.  The adventure and challenge of rock climbing often parallel the struggles of life, especially in learning how to have confidence and strength when faced with fear, potential danger, and failure.
Sometimes I wonder why I spend so much of my time, money, and energy going cool places to climb up walls for fun… or I wonder if my time would be better spent traveling the world and meeting the needs of the poor.  While there are some more important pursuits in life, God has reminded me time and time again that he has given me this passion for climbing as a gift.  There is also a calling that comes with it- a calling to hang out with climbers and show them Christ's incredible redeeming love.
I've never been a natural athlete, or an all-star on any sports team, but rock climbing has given me the motivation to train and to push myself to do things I never thought possible.  When I first started rock climbing I never thought I would be a trad leader, or climb difficult, overhanging sport routes…. now those are some of my favorite types of climbing!  Rock climbing also entices me to explore beautiful places in this world that I might otherwise never see.  Climbing also frees me from the stresses of life.  A recent trip to the desert of Utah (Indian Creek) was not only fun rock climbing with friends, but was much needed respite from busy schedules, cell phones, and "important" matters that must be dealt with.  When you are out in the wilderness, it's really hard to stress about the tough issues of life that can often drag us down.
Well, that's a little bit of who I am, and why I love rock climbing.  I'm pretty psyched to share and learn from other women who have similar passions… may we encourage one another to great heights!
"God is my rock… with my God I can scale a wall." – Psalm 18