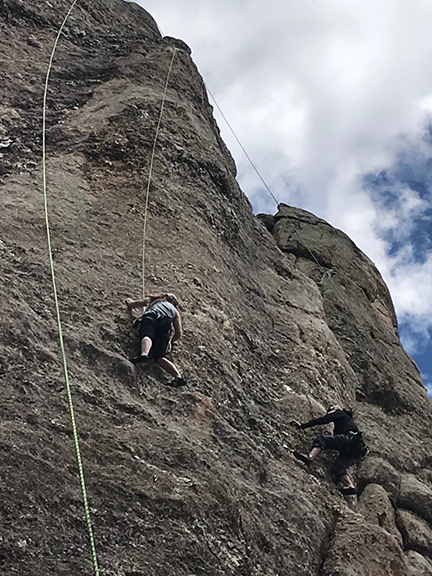 Dani and I talk.  All the time.  About everything.  Anyone who has been around us for more than 5 seconds can vouch for that.
When we're climbing, our conversation is different.  We've been climbing together for well over a year now and our climbs always begin the same.  "I'm through my hard points and I've got my knots." "k, I'm locked." "k, climbing." "Climb on."
From there, our conversation usually consists of asking for beta, giving beta, a discussion on what the correct path is, perhaps remembering where a "Thanks You Jesus hand hold" is, asking to be kept a tighter or maybe a little slack, praise on an awesome move, encouragement, rejoicing when the goal is reached.
Then begins the discussion at the top of what we're doing.  Whether it is setting up or checking anchors, cleaning the route, or just being lowered down with a sense of accomplishment.  Of course, once we're down, we find something else to talk about and move on to our next climb.
I want my walk with God to be like this only more so.
Looking at the climb ahead together, seeing a general plan of what I think God wants.  The familiar and comforting "k. I'm trusting you." "k, I've got you." And then during the route, the freedom to ask for that valuable beta and direction, listening for His advice, Proverbs 3:5 "Trust in the LORD with all your heart and lean not on your own understanding." asking to be held tighter when I need to make a move but I'm scared to do it. Psalm 16:8 "I keep my eyes always on the LORD. With Him at my right hand, I will not be shaken." Knowing He gives me a little slack when I don't quite get a move, 2 Corinthians 12:9 "But he said to me, " My grace is sufficient for you for my power is made perfect in weakness." Therefore I will boast all the more gladly about my weaknesses, so that Christ's power may rest on me. Working together to find the right way, remembering those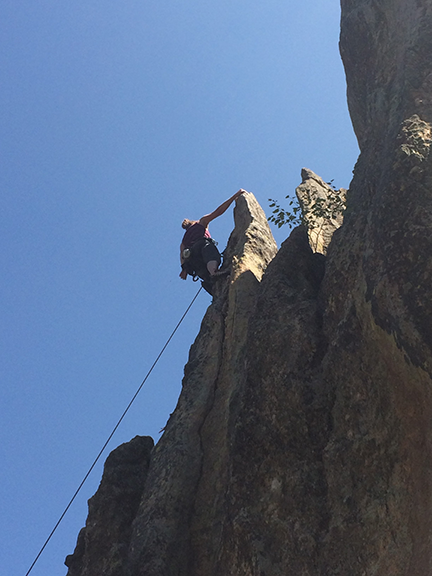 "Thank You Jesus holds" full of His goodness, 2 Thessalonians 2:16-17 May the Lord Jesus Christ himself and God our Father, who loved us and by His grace gave us eternal encouragement and good hope, encourage your hearts and strengthen you in every good deed and word. Praising and rejoicing. Psalm 146:1-2 Praise the LORD, Praise the LORD, my soul. I will praise the LORD all my life; I will sing praise to my God as long as I live.  Looking back to see how different the climb went verses how I thought it would. Jeremiah 29:11 "For I know the plans I have for you," declares the Lord, "plans to prosper you and not to harm you, plans to give hope and a future."
And then moving on to the next climb, hopefully a little stronger and a little wiser. Matthew 25:23a "Well, done, good and faithful servant!"