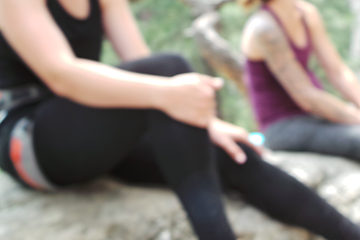 I will never forget the first time I got to go climbing. I was a single mom, with not much of a life outside of work and my son. I had been riddled with pain for years and was totally unhealthy. I was also broken, carrying the many scars of a past filled with mistakes, broken hearts, and emotional abuse. I will never forget how good it felt that first time, making it the top and ringing that bell at my local climbing gym.
I often talk about how climbing transformed me emotionally, physically and spiritually. God worked out a lot of garbage with me on the rock. He showed me what I was made of, prepared me for many future challenges and taught me to trust him through the process. He also taught me to enjoy His wonderful creation and relish in His abundant blessings. Most importantly, He demonstrated His unconditional love for me, His provisions and His protection over my life.
Because of the Lord's great love we are not consumed, for his compassions never fail. They are new every morning; great is your faithfulness. – Lamentations 3:22-23
For I am convinced that neither death nor life, neither angels nor demons, neither the present nor the future, nor any powers, neither height nor depth, nor anything else in all creation, will be able to separate us from the love of God that is in Christ Jesus our Lord. – Romans 8:38-39
One area of struggle in my life has always been my value, and feeling accepted by others. This stems back to a childhood of bullying and a young adulthood of bad relationships and emotional abuse. As a mother, woman and a professional, no amount of success could ever shake the notion that I was not good enough.
I found early on that climbing gave me the confidence that I had never had before. Emotionally and physically I grew stronger. On the rock, I began to feel that value and acceptance I desperately craved. Before long, climbing became an integral part of my identity.
The trouble is, when you place your identity in the things you do, that feeling of value cannot be sustained. What you do, whether it a job, sport or hobby, does not give you a true and lasting feeling of value. By striving to be accepted in this way, we build up strongholds in our lives. When these strongholds do not produce the desired effect, our world can come crashing down.
See what great love the Father has lavished on us, that we should be called children of God! And that is what we are! – 1 John 3:1a
I praise you, for I am fearfully and wonderfully made. Wonderful are your works; my soul knows it very well. – Psalm 139:14
There were many times that climbing made me feel great. I even made some friends and found climbing partners. The trouble is, I had in a way self-medicated with climbing. I never dealt with the underlying issues of loneliness, hurt and low self-worth. I suddenly found myself in another group of peers that made me feel inadequate. I convinced myself that if I was a better climber, I would be more accepted. This only caused more striving, stress, and frustration.
In 2012, I married and moved across the country from Northern Virginia to Rapid City. I brought these same insecurities with me into my new life. I thought one way to gain my new family's acceptance was through climbing. They all were great climbers, and I felt like this was something we had in common. This obviously did not work. First of all, I was not as good of a climber as I pretended to be. Plus, the stress of trying to prove myself only pushed any hopes of healthy relationships further apart.
There were many other issues going on with me at that time. I was a new wife, in a new tight-knit community, without my family, my friends, my job, my church, or anything familiar. The feelings I had struggled with all my life became consuming.
Knowing something needed to change, I decided to go to counseling with Christian Life Ministries. Through that experience I learned about my identity in Christ, and how to be free from the strongholds I had built up around me.
Only when we fully recognize that we are precious, loved, valued and accepted daughters of Christ, can we let go of those strongholds. Eventually I understood that nothing and no one other than Jesus can sustain a truthful and healthy self-worth. In Christ, I am made whole. In Christ, I can find peace. In Christ, I find unconditional love and acceptance. Fully understanding and embracing this truth is far more freeing than I can explain.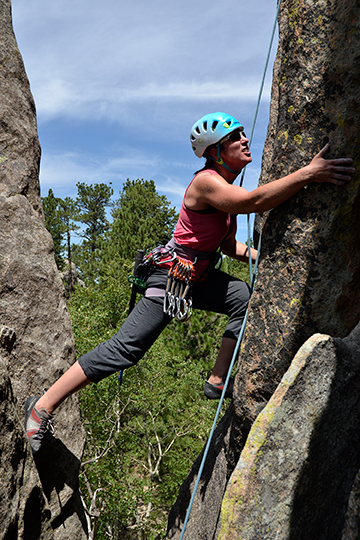 Since you were precious in My sight, you have been honored, and I have loved you; – Isiah 43:4a
Behold, I have engraved you on the palms of my hands; your walls are continually before me. – Isaiah 49:16
Obviously, I still climb as much as I can. I still wish I could go climbing every day. It is just so much fun! However, climbing has changed for me internally. I no longer see myself as a rock climber. I see myself as a precious daughter of Christ, who happens to LOVE rock climbing.
What is the difference? I no longer feel like I have anything to prove. I try my best and have a lot of fun. I also know that I will never be a world-class climber, and I am okay with that. I have removed the pressure of fitting in, and not being good enough from all aspects of my life. Christ in me is my identity, my value and my worth. Now climbing is simply something I enjoy. It is not my escape, my way to feel better, or my sense of self-worth. It is not my life; nor is it my identity. As a result, I actually find that I can enjoy climbing more now that all the baggage has been removed. I even climb a little better since I do not put so much pressure on myself.
What are the strongholds that you have in your life? What past hurts and pain do you need to lay down at the feet of Jesus? Where do you find your value and acceptance? Is it in your financial situation, your job, your looks, motherhood, or sport? Search your heart, and ask Jesus to reveal those things that may be taking the place of Him in your heart. When you let go, and break those strongholds, you will find true and sustainable value and acceptance. When your identity is settled in Christ, you will find abundant life, peace, joy and rest.
The thief comes only to steal and kill and destroy; I came that they may have life, and have it abundantly. – John 10:10
 ou will make known to me the path of life; In Your presence is fullness of joy; In Your right hand there are pleasures forever. – Psalms 16:11