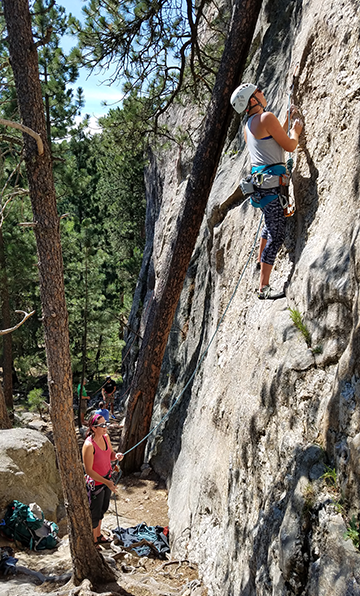 Climbing in the Black Hills is unlike any other place I have climbed. The phrase, "trust your feet," takes on a whole new meaning when the slab you are climbing has next to nothing for holds. The footwork can be the most crucial and difficult part to figure out, as you sequence your way towards the anchor.
Falling is part of climbing. It is a major component of learning and becoming a stronger climber. Falling allows you to dig deep and overcome difficult challenges. I cannot tell you how many times my foot has slipped on a tiny hold as I am fought my way through a move. Sometimes I was able to catch myself. But, there have been times when a fall was inevitable. While falling can be a bit terrifying, the knowledge that you have a good and trusted belayer makes taking the risk more reasonable.
Once thing I have learned over the years is that I must have faith in my belayer. I must know that they understand what is involved and trust that they will do their best to ensure I climb, and fall, safely.
Here are some just some of the skills that every good lead belayer should have: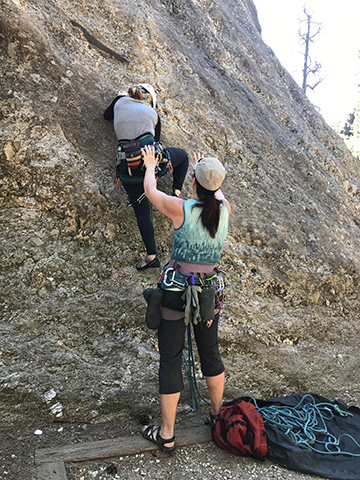 Before clipping into the first bolt, the climber is not connected to any rope. The belayer should spot the climber, ready to guide them down safely should they fall.Spotting someone is not the same as catching.

Spotting simply means you will help keep them upright, and avoid any obstacles that might impale. Guiding them down as safely as possible, and protecting their head is key.
Once the climber clips safely into their first bolt, the belayer should take up any excess slack and let the climber know they are now, "on belay."

The belayer must never take their eyes off the climber. No matter what conversations are going on around them, their attention and focus must never move from their responsibility. They must always be ready to react to rapidly changing circumstances.
The belayer must point out and correct any mistakes the climber is making. Catching mistakes immediately, before the climber moves past them, can mean the difference between life and death, or serious injury.
They must know how to recognize when the climber has back clipped, or z-clipped.

They must make sure the rope is not wrapped around the back of the climbers ankle (see about how to "Toe Tuck" on the Z-Clip Video). This could result in getting flipped upside down in the event of a fall.

The belayer must feed the climber the proper amount of slack.

While climbing, the rope should maintain a soft smile, ensuring there is just the right amount of rope fed out to the climber. Too little and the climber might be pulling the rope up with them as they climb. Worse yet, the climber could get pulled off the route. Too much slack will result in an unnecessarily long fall.

When the climber is clipping, the belayer must anticipate how much slack to let out and when. A high clip will need one or two arm's lengths of slack. A clip closer to the climber's waist will require a minimal amount of additional slack.

Clipping is one of the most dangerous times for a climber. They need a lot extra rope, and anticipate clipping quickly. If the belayer has not fed out enough rope, the climber is left tugging at the rope needing more to clip. This can result in a fall, with a lot of extra slack in the line. At the least, this results in panic, increasing the stress on the climber.

They belayer must know where to stand when belaying. This ensures they can easily move and react when necessary.

They should ensure their standing area is fee from any obstructions, in case they are pulled up and into the rock.
They should stand about a step away from the rock, under the climber. This allows them to move effortlessly toward and away from the rock as they feed and take out slack.
After every clip, the belayer should be prepared to reposition themselves to align with the direction they will be pulled in the event of a fall.

The belayer must learn to recognize what type of catch to make based on obstacles in the way of the climber.

A soft catch is best for a climber. By taking a small hop at the point of impact, the belayer is pulled upward and into the rock. This softens the landing for the climber, and prevents them from crashing into the rock.
If there is a ledge or something the climber may hit with a long fall, the belayer must know to take up as much slack as possible, and give them a hard catch. While this is a rougher landing for the climber, the belayer will prevent them from hitting anything that could cause serious injury.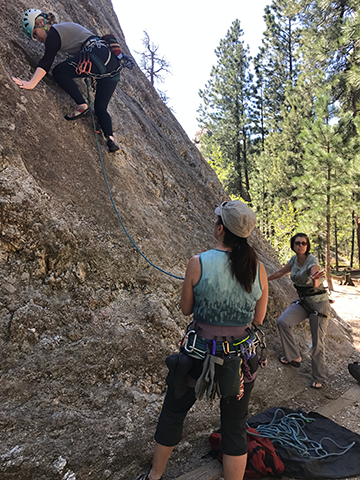 As you can see, a lot goes into belaying for a lead climber. I never allow someone to belay for me on lead unless I know that they know what they are doing. Since I already find lead climbing slightly terrifying, trusting my belayer allows me to push beyond my fears, knowing that they have my back. I take comfort in knowing my belayer is looking out for me, and will catch me when I fall.
What difficult challenges are you facing that risk a fall or getting hurt? Who in your life is your safety net? Do you have a belayer that will never take their eyes off you? Do you have a belayer that will point out your mistakes, and correct your path? Do you have a belayer that knows just what to do, and will always catch you when you fall?
The Lord makes firm the steps of the one who delights in him;  though he may stumble, he will not fall, for the Lord upholds him with his hand. – Psalm 37:23-24
I was pushed back and about to fall, but the Lord helped me.  The Lord is my strength and my defense; he has become my salvation. – Psalm 118:13-14
Over the years, I have had many of circumstances where I was afraid and alone. Sometimes I did not know where the rent was coming from, or how I was going to put food on the table for my son. There were times where I felt lost and alone, totally depressed. There were other times where I screwed up so bad that I thought my life would end up in rubble.
You gave a wide place for my steps under me, and my feet did not slip; – 2 Samuel 22:37
Through it all, my God was faithful. He always kept my feet from slipping, or caught me when I fell. He never turned His back on me, even when I abandoned all that I believed. He never stopped loving me, providing for me, protecting me and catching me. Because of God's faithfulness, I stand here today. Because of God's faithfulness in the past, I can face any difficult climb in the future. I can rest in the knowledge that I have a really good belayer, watching over me, ensuring my safety. He always provides a soft catch.
Be strong and courageous. Do not fear or be in dread of them, for it is the Lord your God who goes with you. He will not leave you or forsake you." – Deuteronomy 31:6
For I am the Lord your God who takes hold of your right hand and says to you, Do not fear; I will help you. – Isiah 41:13
Reference: https://www.rei.com/learn/expert-advice/belay-lead-climber.html