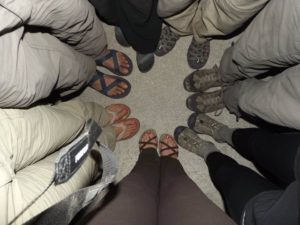 For where two or three are gathered together in My name, I am there in the midst of them."
– Matthew 18:20
We are not just Chick Climbers. We are also women of God, who believe in the power of prayer.
Join us in sharing each other's burdens by asking for, and lifting one another up in prayer.


Prayers for our members and their familes!

Ladies, I want you to know that you are being prayed for. I pray that God blesses your family in this time of turmoil. That through this trial you will grow closer to one another as never before. I pray for good health, protection over your family, your finances, and your provisions. I pray that you see God's miracles working daily in your life. That through this journey you grow closer to Him, and learn a reliance on His strength as never before.

My Son

Please pray for my son John who is 17 and is very angry with God. Please pray that the lord blesses him with a spirit of strength and assurance and replaces his spirit of anxiety and fear. Please pray that God blesses John with a peace that surpasses all understanding and that he would come to know the love and heart of Jesus. Thank you

A prayer for guidance.

Hi.

Would you kindly pray that four ladies whose names I don't know would have a fresh understanding of God's grace and love?

Thank you.

Little brother

Please pray for my little brother. Leo. He has shaken baby syndrome and has many seizures in a day. They are going to put a vns in him. A Vagus Nerve Stimulator (VNS) is a device used to treat seizures when seizure drugs are not effective and surgery is not possible. VNS consists of a pacemaker-like generator that is implanted in the chest wall and is programmed by the physician to stimulate the vagus nerve in the neck. Prayerfully this will help have no seizures.

Pray for this Ministry

Since May, I have seen God do amazing things both in this ministry, and in the lives of those who have participated. There are so many more people that can be reached, and a national community that could be built ... for Him, and for His glory.

Please pray that as God puts on the heart of a few women around the country to start a small group, that they will heed the call and partner with us as another Chick Climber small group.

Please pray that we find enough childcare providers for the months or September and October for our Bethel Assembly Women's Climbing Group.

Please pray for our winter session small group as we travel to Gillette to climb and participate in a bible study. Help me to pick the right study, and to find a babysitter for during the bible study times.

Finally, please pray that God continues to show favor on our group, that He allows us to multiply, climb in safety, grown closer to Him through climbing, and build lasting relationships with other members.
Submit a Prayer Request