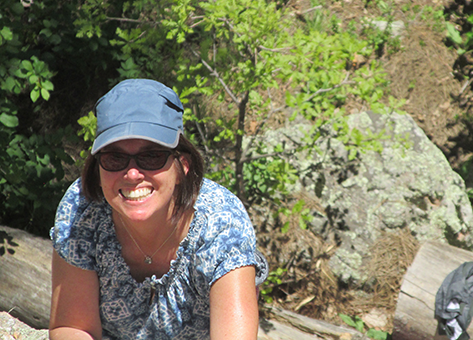 My dear friend Sally, and fellow Chick Climber shared with me an analogy of life that really painted a powerful and though provoking image. I thought I would share this with you in the hope you will search your lives, and see where your life may be, versus where God may be calling you.
There are two types of people in this world. There are river people, and there are mountain people.
A river person is content to go through life, enjoying what is in front of them. They are content, floating in the current, enjoy the views, and never moving beyond its banks.
A mountain person sees beyond what is in front of them. They look off into the distance and see a mountain just begging to be climbed. With hard work and a lot of sweat, they press forward, and reach the summit. For a mountain person, that summit is just the beginning. From the top of that mountain, the see another mountain just waiting to be climbed. Without hesitation, they start working hard and planning on how they are going to reach that next big summit.
A river person is content with their life, working the same job, living in the same location, and happy with just enough out of life. Simplicity, safety, and security can at times outweigh the dreams that God has placed on their heart.
A mountain person on the other hand looks beyond where their life is currently. They are not afraid to dream big. They are willing to take the risks, view failures as opportunity for growth, and push relentlessly upward to reach seemingly impossible dreams.
As I look back on my life, I can see the years I lived as a river person. I was a single mom and needed the security of a good paying job. I was too scared to take a risk and follow my dreams. I could not see beyond my river banks to what else might be out there.
While writing this, I think back to early on in my career. I had just started in a good paying job that allowed me to leave the welfare system. I had a four-year-old son, and was looking forward to having a job that allowed me the opportunity to move out on my own. A friend from Albuquerque New Mexico told me all about her home town, and University of New Mexico. For two years I dreamt about going to that school. I eventually applied to the school, figured out what they had for daycare, and registered for the family housing waiting list. After a year, I needed one more letter of recommendation, and I was in. I even got the family housing I had applied for a year earlier.
As I stood at the base of that mountain, I started to see how hard things would be. I envisioned moving to an unknow town with a small child, and trying to navigate work, school, and motherhood. The image of pulling up to my new home, with no-one to help me unload my moving truck was the final blow that caused me to back away from my climb. I chickened out and withdrew my application. I reasoned that I had already started a good paying job, that would lead to a good career in the emerging Information Technology industry. It would be silly to walk away from that and go to college. In other words, I settled for the safety of my riverbanks, rather than climbing that mountain.
Therefore, brethren, be all the more diligent to make certain about His calling and choosing you; for as long as you practice these things, you will never stumble; – 2 Peter 1:10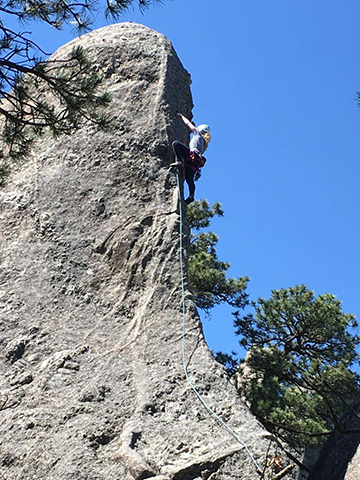 I had a good life along river. God blessed me and my son, and provided for us every step of the way. I had a secure job, that eventually paid really well. There were lots of opportunities that presented themselves, and I had a fairly successful career. However, I spent 22 years in a career I hated, wishing I had a college degree. I spent most days wishing I was doing something different with my life. I never felt that things fit, and always believed there was something different meant for me.
I look back on that decision 22 years ago and wonder what life would have been like if I had the courage to climb that mountain. What was God's plan for my life at the time? What experiences did I miss out on by settling for security of my riverbanks?
As I have gotten older, and grown in my faith, God has begun to show me that there are times to sit quietly by the river, resting in His presence. However, there are also times God calls us to the mountains in the form of callings, goals, and dreams. As I press into God, I begin to discover His calling and plan for my life. As a result, I and eagerly run towards the summit, thirsting for all He has to offer.
He replied, "Because you have so little faith. Truly I tell you, if you have faith as small as a mustard seed, you can say to this mountain, 'Move from here to there,' and it will move. Nothing will be impossible for you." – Matthew 17:20
If you have spent your life on the banks of the river, it is never too late to head towards the mountains. What mountain has God shown you that needs to be climbed? What dream has He instilled in your heart, just itching to be realized? What seemingly impossible task do you feel called to conquer? I challenge you today to trust that God will be beside you, as you climb that mountain. He will be your strength as you take the risks involved in going after that dream. Once you reach the summit, you will be amazed at all the other summits He has planned for you in the future.
I know that you can do all things; no purpose of yours can be thwarted – Job 42:2
Jesus looked at them and said, "With man this is impossible, but with God all things are possible."  – Matthew 19:26